2Mil Reclosable Bags With Hang Hole
2Mil Reclosable Bags With Hang Hole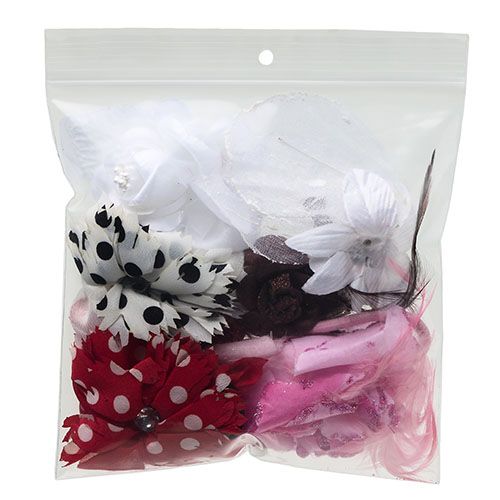 Hover to rotate. Click to revert.
2Mil Reclosable Bags With Hang Hole
To make products more visually appealing and to improve storage options, get reclosable bags that allow you to display your products with ease. These bags are perfect for hanging on hook shelves and are great for properly displaying colorful products. The reclosable nature of the bag ensures that you can take the products out anytime. With an FDA approval, the resin material used for the reclosable bags makes them safe to use with food products too. The dual purpose of these bags makes them great to use for displaying and storing products while the durable materials make these reclosable bags perfect for use, even for shipping purposes.
Specifications:
Perfect for use with hook display shelves.
Are FDA approved for use with food products.
Can be easily opened and reclosed with ease.
Itemno
Size / Item#
f2h

2 X 3"




Item#

F2H-0203
Qty/Case: 1000
f2h

2 X 8"




Item#

F2H-0208
Qty/Case: 1000
f2h

2 X 12"




Item#

F2H-0212
Qty/Case: 1000
f2h

3 X 3"




Item#

F2H-0303
Qty/Case: 1000
f2h

3 X 4"




Item#

F2H-0304
Qty/Case: 1000
f2h

3 X 5"




Item#

F2H-0305
Qty/Case: 1000
f2h

3 X 6"




Item#

F2H-0306
Qty/Case: 1000
f2h

4 X 4"




Item#

F2H-0404
Qty/Case: 1000
f2h

4 X 6"




Item#

F2H-0406
Qty/Case: 1000
f2h

4 X 8"




Item#

F2H-0408
Qty/Case: 1000
f2h

5 X 7"




Item#

F2H-0507
Qty/Case: 1000
f2h

5 X 8"




Item#

F2H-0508
Qty/Case: 1000
f2h

5 X 10"




Item#

F2H-0510
Qty/Case: 1000
f2h

6 X 8"




Item#

F2H-0608
Qty/Case: 1000
f2h

6 X 9"




Item#

F2H-0609
Qty/Case: 1000
f2h

6 X 10"




Item#

F2H-0610
Qty/Case: 1000
f2h

6 X 12"




Item#

F2H-0612
Qty/Case: 1000
f2h

6 X 14"




Item#

F2H-0614
Qty/Case: 1000
f2h

9 X 12"




Item#

F2H-0912
Qty/Case: 1000
Additional Detail
| | |
| --- | --- |
| Mil (Thickness) | 2 Mil |
| Generally Ship | 2-3 Business Days |
| Material | Low Density |
| Eco Friendly | Yes, Recyclable (#4) |
| FDA/USDA Approved | Yes |
| Recycling Code | #4 - LDPE |
| Style | Reclosable |
| Tolerance: | +/- 1/4" size and thickness variance |
| Freezer Compatible: | Yes, do not store in freezing |
| Water Resistant: | Yes, but not waterproof |
| Acid Free: | Yes |
| Sulfur free: | Yes |
| Latex free | Yes |
| Chlorine free: | Yes |
Industry Uses
| | |
| --- | --- |
| Healthcare: | General Purpose Bags, Home Care Bags, Hospital and Patient Care Bags, Laboratory Bags, Pharmacy Bags, Bags for Instruction & Identification, Bags for Emesis Control, Bags for Home Medical Equip & Storage, Bags for Infection Control, Bags for Medication Transfer and Storage, Bags for Patients, Bags for Specimen Transfer, Bags for the Operating Room, Bags for Waste and Disposal |
| Industrial: | Additional Industrial Products |