General Printing
Printing Treatments
Flexographic Ink Imprinting
Flexographic Ink Imprinting is our most cost-effective printing method and is available on specified items (imprinting options are found on the product page). Flexography (often abbreviated to flexo) is a form the of printing process which utilizes a flexible relief plate. It is essentially a modern version of letterpress which can be used for printing on almost any type of substrate, including plastic, metallic films, cellophane, and paper.
Flexographic Printing offers a higher quality imprint with greater detail.
There are 3 different ways we can print using this method:
1. In-Line Flexograph Printing (Standard Run): Press prints only on one side but can print on heavier materials, such as corrugated boards.Up to 8 color print available.
2. Post-Print Flexograph Printing (Short Run): A post-production environment is one in which imprinting takes place on a bag which is already constructed. Some restrictions exist with this method of printing, such as a fold or a gusset, which may restrict the available imprint area. In addition, a multi-color design imprints the colors individually, making it necessary for a space to exist between the colors. In-line printing does not have this space requirement.
3. 4-Color Process Flexograph Printing: Our printing methods use CMYK (Cyan, Magenta, Yellow, Black), also known as Four Color Process printing (or simply Four Color). In the CMYK method of printing, the 4 base ink colors create the design using varying sizes and densities of dots.
Unlike spot color logos in which the color tones are premixed, this method is actually creating the colors as the machine prints your logo, resulting in a series of dots rather than solid colors.
Foil hot stamping offers an upscale retail look to your logo. Using heat and pressure, a foil stamp of your design is placed directly onto each item for an elegant look.
Our Digital Printing uses an advanced inkjet technology to deliver an image quality comparable to 900 dpi printing in full color 3x the resolution of standard flexographic printing. Full 4-Color Process Printing with superb image quality.
Screen Printing (on Non-Woven Poly Bags Only)
Screen printing offers a cost-effective way to promote your message. By injecting an ink through a fine mesh screen, your design is reproduced in clarity directly on each item. For close registration on multi-color designs, use our ColorVista Print Technology for best results.
Heat Transfer 4-Color Printing
Heat Transfer Print Technology is ideal for designs requiring close registration. Please submit artwork in CMYK color. For best results, some minor adjustments may be required and you will be contacted for approval prior to any changes. Minimum requirements for fonts are 16 pt. and 2 pt. lines.
Embossing is most often practiced for decorative purposes. Its effects are timeless, elegant, memorable, and lasting. It is often produced on larger solid areas and is known for its subtle broad features. Embossing forces (stresses) a material to create raised or depressed bumps. Embossed printing is a process where areas of paper are patterned by forcing fibers to move from pressure treatments. It is an inherently difficult process when the embossed impression contains fine line detail.
Order Quantities
We do not offer less-than-minimum quantities. When ordering a quantity that is in-between, please refer to the smaller quantity price (an order for 12,000 will take the 10,000 unit price). Some printing methods, such as 4-color process, typically requires higher minimums. Due to the nature of printing bags, the exact amount ordered is rarely produced. These orders are subject to an over- or under-run of 15-20% and all overruns manufactured will be invoiced. Your invoice will show the exact amount shipped. Underrun will result in a refund and credit to the account will be made.
Over/Under Run Policy
Due to the nature of manufacturing plastic bags, the exact quantities ordered are seldom produced. For that reason, all order quantities shipped are subject to some variation from the quantity ordered. All overruns manufactured will be invoiced. Our acknowledgement of your order will include the overrun quantity. Your invoice will show the exact quantity shipped. If a refund for an underrun is due, a check will be included with the invoice.
Small quantities (4,999 pieces or less) ship exact. All other printed bags are subject to an over or underrun of 10% to 25%. This range is based on the product and its different variance as noted.
The policy of over- and underruns is a commercially acceptable practice and exists industry-wide. If the exact quantity is an absolute necessity please let us know. It is generally available for an additional fee, depending on factory and item. Our Customer Service Representatives will be able to assist you with the cost.
Quantity tolerances
Please note: Quantity tolerances vary depending on bag size and quantity ordered. Tolerances of up to +/- 20% on plain bags & up to +/- 30% on printed bags must be accepted, +/- ¼" tolerance on hole locations, +/- ½" tolerance on die cut handle location. Print location may vary.
Size tolerances
Size may vary within acceptable industry tolerances of +/- ¼" on length and width. Seal top bags: width is measured from between the zipper crimps; length is measured from bottom of bag to bottom of zipper unless otherwise specified.
Thickness Tolerances
Mil thickness may vary +/- 10%. High-Density T-shirt and merchandise bags, as well as some low-density bags less than .001 mil will include suffocation-warning print.
Color Tolerances
Ink colors will be matched as closely as possible. The Opaque film may vary in color and opacity. If no film sample is supplied to APlasticBag to match, we will determine the color and opacity.
Production Time
Normal production is 5-25 business days after all approval, depending on the product.
Rush Production
Rush production is 1-7 business days after all approvals. All orders required for sure-dated events must be discussed with APlasticBag before a firm commitment is made, and must be indicated on the sales order. Air shipments may be required in order to meet sure-dated orders, at the expense of the customer or distributor. Non-sure-dated orders are approximate and all efforts will be made to maintain these dates. Orders requiring proof approval must respond within the time designated or the order may be delayed and incur additional charges.
Shipping Time
To figure out your estimated delivery time, you need to consider the time it takes to produce your item and the shipping method you selected.
Example: Production time + Shipping time = Delivery time
We are normally able to produce and ship your item within the quoted time. You will be notified in the event that your order cannot be produced within the quoted time.
When you order several different items, they may arrive in separate shipments since some items ship from different warehouses. Every effort is made to ensure that all items arrive within the quoted time.
Production time starts when we receive approval on digital proofs and a valid method of payment is received. If you request a sample or pre-production proof, the production time will begin once we receive your approval
Drop Shipments
There will be no drop shipment charge. Partial cartons cannot be accommodated.
Time Delay Shipments
APlasticBag.com can accommodate certain time delay shipments. Prior arrangements must be agreed upon. Call for terms and conditions.
Bag Size/Thickness
Due to the nature of manufacturing plastic bags, bag sizes and thicknesses are subject to some variation (estimated .25" + or - ).
Thickness ranges from 1.25 Mil. (Lightweight) to 6 Mil. (Extra thick, Super heavy duty)
Cancellations/Claim
There will be a $50 charge for any order cancelled. This will be in addition to any artwork, plate or other material and/or labor costs incurred at time of cancellation.
Color/Copy Change Charges
All orders requiring changes of color or copy within the total run will necessitate special upcharges.
Minimum per change is 5,000 pieces, whether for color or copy changes.
COLOR CHANGE: $200 for each change within the run.
PLATE CHANGE: (for print areas larger than 5"x7") $200 for each change within the run.
Eyespots on Inline Spot Bags
On all plastic bags there will be an "eye spot" (A small, solid, rectangular box) on corner of bag. Small quantities (4,999 pieces or less) have no eyespots.
NOTE: On all in-line printing plastic bags there will be an "eye spot" on corner of bag. This signals to press where bags are to be cut and sealed.
Notes On Black (Dark) Bags
Bags manufactured with black film in single wall construction may be printed in metallic silver or metallic gold only (see color chart). For edge to edge black printing or double wall construction where a complete black "background" is desired with imprint colors other than silver or gold, additional color charges and plate charges will apply. Contact APlasticBag.com for more information.
Ink Printing vs Hot Stamping
We print Shopping Bags in one of two ways: (1) Ink Printing (using standard inks) or (2) Hot Stamping. (using a metallic foil hot stamp).
We recommend ink printing because it does a good job and is much less expensive.
Hot Stamping looks great but is not for everyone, since it is a different look. The price of dies (plates) are higher and the printing process itself is more expensive (Gold isn't cheap but ink is). Several foil colors are available.
For tinted shopping bags, we offer metallic hot stamping because it shows up much better than ink on the solid color bags.
Inline Printing vs Post Printing
STANDARD RUN (Inline Printing)
Your advertising messages, imprinted directly onto paper sheeting, are later converted into bags.
1. 5000 bags minimum
2. Large imprint area
3. Up to 6 imprint colors available
4. Tighter registration on 2-colors or more
5. Bag size can be custom made to your spec.
6. Overruns & Underuns 10-20%
7. 12 Day Production time
SHORT RUN (Post Printing)
Blank paper bags are fed into a one-color press where your advertising message is then overprinted onto the bag
1. 250 pieces minimum
2. Limited print area
3. Max. 2 imprint color available
4. Tighter registration not available (1/2" separation between colors)
5. Limited bag Sizes available (all listed on the website)
6. No Overruns & Underuns
7. 7 Day Production time
Film Colors & Ink Colors
Due to the nature of manufacturing Bag colors & Ink colors may vary: 
Colors may vary from orders within acceptable variance. This is because we order color concentrates and inks at different times and different batches of supplies were shipped to us. 
For the ink-color, since solvent based ink is used, the solvent evaporates into the atmosphere during the printing process, causing the ink to become more concentrated and turns darker. Solvent is then replenished for better viscosity and to balance out the color. This cause the slight variance in the ink color. We try diligently to stay true to the PMS color but variance does sometimes happen.
Subscribe and receive coupon specials, updates & tips on buying great bags
We Build products to your specifications at extremely competitive prices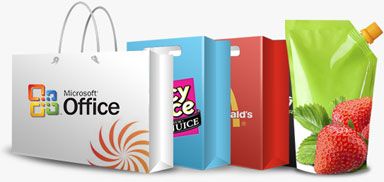 Need a custom packaging product in a unique style or size? Do you have a large volume requirement? We have an entire department dedicated to locating and developing unique products that exactly meet your most demanding packaging requirements.
Call Us : 1-877-992-2247
Request Quote
Thank You
Your request has been received and will be reviewed within the next 24-48 business hours.
Error
We've encountered an error. Please try again!!