Stock, Imprinted and Full Color Printed Popcorn Bags
Full Color imprinting with Superb Image Quality Customization
500 Bag Minimum - Fast 1-7 Day Rush Production
These Popcorn Bags are especially for retailers like you, We are your Best Source for a Popcorn Bags!
If you're looking for a custom printed Popcorn Bag that will make a great impression on not only your existing customers, but also future customers then we are just what you need!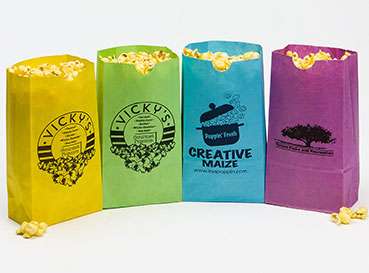 Imprinted Popcorn Bags
These bags are pre-made before printing is applied in order to provide small quantity orders starting at 500 units
500 Bag Minimum
Multiple colors & sizes available
Limited print area and bag sizes
Maximum of 1 color imprint
(Digital print may be available)
Tighter registration not available
7 Day production time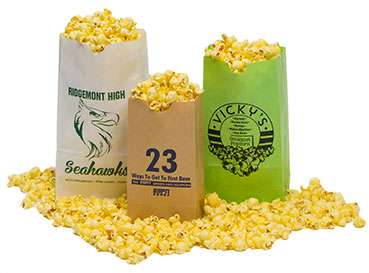 Custom Printed Popcorn Bags
All of our bags are made automatically on high speed, roll fed machines in the U.S. Bags are customized with In-line Printing
25,000 bag Minimum
Large imprint area or full bleed, edge to edge printing
Up to FULL imprint colors available
Tighter registration on 2-colors or more
Bag size can be custom made to your specifications
Overruns/Underuns 10-20%
20-25+ Day production time
Theater & Stock Popcorn Bags
Theater Popcorn bags are stocked items and they usually ship within 1-3 days!


Theater Popcorn bag comes with a Wagon Print
From 32 Oz. to 170 Oz.
Manufactured in the U.S.
Large Quantity or Sample Request avaialable
Custom Printing Available
Prices include 1 Color on all 4 Sides - Up to 4 Color Process Popcorn Bags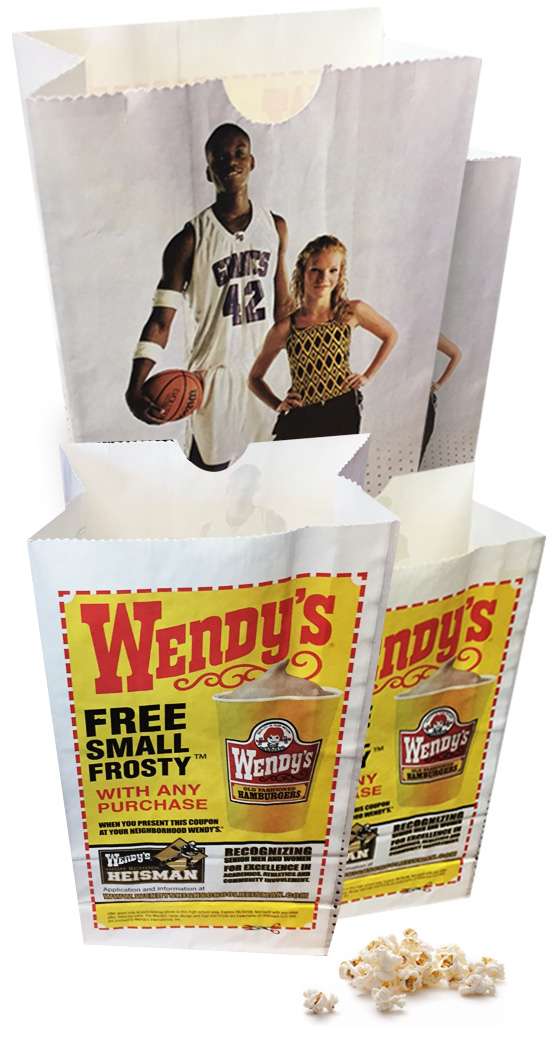 Sizes/Item#


Width x Length + BG

Capacity
Price Per Bag

25,000

50,000

4.25X2.5X6.75"
Case Pack: 1000
Carton Wt. 14 Lbs
32 Oz
$0.13
$0.125
4.25X2.5X8.25"
Case Pack: 1000
Carton Wt. 22 Lbs
46 Oz
$0.14
$0.135
5.5X3.25X8.75"
Case Pack: 500
Carton Wt. 22 Lbs
85 Oz
$0.17
$0.165
7.25X3.75X9.5"
Case Pack: 500
Carton Wt. 25 Lbs
130 Oz
$0.20
$0.195
7.25X3.75X11.5"
Case Pack: 250
Carton Wt. 30 Lbs
170 Oz
$0.22
$0.215
Printing Method: Flexographic Ink (Max. logo colors : 4)
Material: Paper
Ink colors: 35 Standard Ink Colors
One time plate charge: Extra (No Plate charges on Re-order for up to 2 years!)
Production Time: 6-8 weeks
For Additional colors add as follows:
2 Color Printing - Add $.02 per bag
3 Color Printing - Add $.03 per bag
4 Color Printing - Add $.04 per bag
For 5 or 6 color printing Request A Quote
Ordering Your Popcorn Bags is EASY!