Ink E.S.D Three Layer Zip Close Pouch
Ink E.S.D Three Layer Zip Close Pouch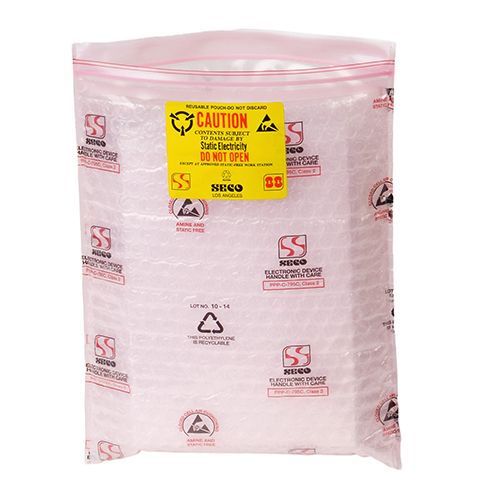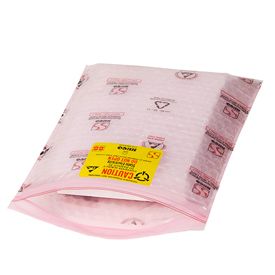 Hover to rotate. Click to revert.
Ink E.S.D Three Layer Zip Close Pouch
The Seco Pack 88-3Z is a three layered anti-static cushion pouch consisting of the layers Pink Anti-Static poly, Pink Anti-Static bubble, as well as an internal layer of Pink Anti-Static poly. With the added functionality of a double track red line anti-static zipper closure as well.
Three layers
Anti-static cushion pouch
Double track red line anti-static zipper closure
Itemno
Size / Item#
sc883z

4 X 6"




Item#

SC883Z-04C
Qty/Case: 200
sc883z

8 X 10"




Item#

SC883Z-08C
Qty/Case: 200
sc883z

10 X 12"




Item#

SC883Z-10E
Qty/Case: 200
sc883z

12 X 15"




Item#

SC883Z-12F
Qty/Case: 200
Are you not happy with normal ESD protection for your electronic devices? Do you need a zip closure with the best anti-static protection? Try our wonderful Seco Pack 88-3Z cushion pouch! It is prepared using three excellent poly layers that offer the best protection from electrostatic dissipation. This zip close pouch also has an anti-static zipper, which ensures that no part of your device will remain unprotected with this powerful shielding pouch. This cushion pouch is also quite intricate, as it is prepared from pink static charge resistant polyethylene.
Additional inner anti-static layer
Double track zipper
Great RFI and ESD protection
Seco Pack 88-3Z: Three-Layered Anti-Static Cushion Pouch - Manufacturer & WholesalerThe Seco Pack 88-3Z is your top-tier solution for safeguarding delicate electronic components and sensitive equipment during shipping and storage. We've meticulously designed this cutting-edge pouch to provide unparalleled protection, ensuring your valuable items stay in impeccable condition. Let's dive deep into the specifics of this remarkable product:Layer 1: Pink Anti-Static PolyOur pouch's first layer consists of high-quality Pink Anti-Static Polyethylene material. This specially engineered polymer actively combats electrostatic discharge, a potential menace to sensitive electronic components. By employing this advanced material, the Seco Pack 88-3Z guarantees robust protection, shielding your items from harmful static charges and preventing potential damage.Layer 2: Pink Anti-Static BubbleThe second layer of our cushion pouch is crafted from Pink Anti-Static bubble material. This unique addition not only enhances anti-static properties but also provides an extra layer of cushioning. This means your fragile items are shielded not just from electrostatic discharge but also from physical shocks and impacts during transportation.Internal Layer: Pink Anti-Static PolyDeep within the Seco Pack 88-3Z, an internal layer of Pink Anti-Static Polyethylene acts as the final frontier against static electricity. This comprehensive and multi-layered defense ensures your valuable components remain safe and secure. Sandwiched between the outer Pink Anti-Static Poly and the Pink Anti-Static Bubble, this internal layer forms a protective cocoon for your items.
Additional Detail
| | |
| --- | --- |
| Generally Ship | 5-10 Business Days |
| Material | Bubble |
| Style | Slider Zip |
Industry Uses