Foil Hot-Stamp
Foil Hot Stamp Printing
An ideal imprint process if you need:
An upscale retail look for your bag
Plastic or paper bags
Ribbons or bows

Foil Hot Stamp
---
Our Hot Stamp imprints are created with an engraved magnesium plate, heat and pressure (or tonnage). This process uses a foil imprint that comes in a metallic or matte finish.
We can hot stamp a variety of surfaces, including gloss, matte, laminated and some plastic bags, as well as ribbons and bows. Hot Stamp imprints provide a high-end look to our products.
Multicolor Imprints
---
Colors must be separated by at least 1⁄8" of surrounding clear space to allow for color movement. Please note that some color movement will still occur. Designs with tighter registration must be pre-approved.

Fonts and Line Rules
If we do not have the exact font you used, the text in your art will default to a less attractive font changing the look of your design. Converting your fonts to outlines, paths, or curves eliminates this hazard by changing your fonts into vector shapes. This ensures that your artwork will print exactly how you expect it to look.
Minimum Sizes
1 point lines or rules.
10 point fonts. Thin serif fonts are not recommended.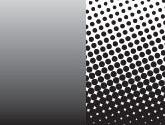 Halftones
For best results, artwork containing halftones must be pre-approved and is available on select bag styles. Halftones are imprinted with a 30-line screen. Tint percentages for areas in the art containing halftones should range from 20% to 60%. Areas less than 20% may not print and areas greater than 60% may fill in and become a solid color. Designs that contain gradients or blends may need alterations for optimum print quality and will require a final, signed proof approval.